TRUSTED ELEARNING ADVISORS
ELEARNING SERVICES
We are a small but perfectly-formed team of elearning professionals providing high-quality elearning services to organisations large and small. With 20 years experience in writing, designing and developing online-learning on topics from Management Skills to Electric Drills, Consumer Needs to Controlling Weeds - we get it and we have the knowledge and skills to help your learners get it too.
LMS CONSULTANCY
We are experienced elearning professionals and have been working with Learning Management Systems (LMSs) for over 15 years. Our hands-on experience of what works and what doesn't, means that we can guide you through the process of requirements scoping, vendor selection, system implementation and on-going support, bridging the gap between learning and technology - we speak both!
BOUTIQUE SERVICES
Why Boutique? Because we provide a personal, high-quality service that our clients love and as well as producing complete programmes, we also provide individual services to compliment your own in-house productions. Working as an extension to your team, we provide creative services such as content authoring, instructional design, graphics, animation, 3D, audio and video to help bring your programmes alive.
OUR WORK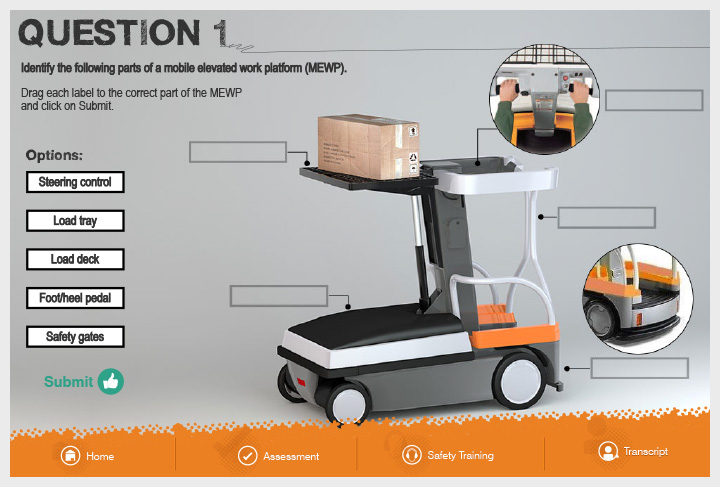 Client: Major UK Retailer
Audience: 1000s Store
Safe use of equipment by staff in store was a major concern to our client and so over and above the standard Health and Safety topics, they wanted to train and assess equipment operators in risk assessment and best practice of safe operation.
7 Modules were developed on specific pieces of specialist equipment such as Mobile Elevated Platforms, Powered Palette Trucks, Forklifts, and Carpet Paternotster in which learners would undertake a rigouress assessment involving interactive exercises. If 100% was not achieved then learned would have the option to view media-rich training content using 3D models, animation, video and audio to demonstrate best practice.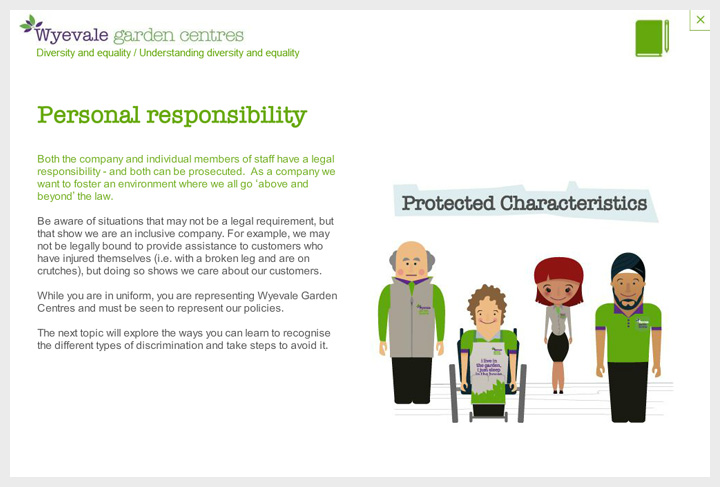 Client: Major UK Retailer
Audience: 5000 Store / HO staff
Having undergone a name change and corporate re-brand, our client took the opportunity to update their library of over 120 SCORM elearning modules, built in Adobe Flash. They commissioned us not only to update them visually but rebuild them on a platform that would help future-proof them against the steady demise of Flash and enable learners to view the content on a range of devices.
Because of the diverse nature of their target delivery platforms, ranging from older PCs running IE8 to IPads, we developed the new modules in Storyline - providing both a Flash and HTML5 published output to suit all devices. As well as re-designing the content and imagery, it also involved converting existing assets such as FLV video and animations in to tablet-friendly formats.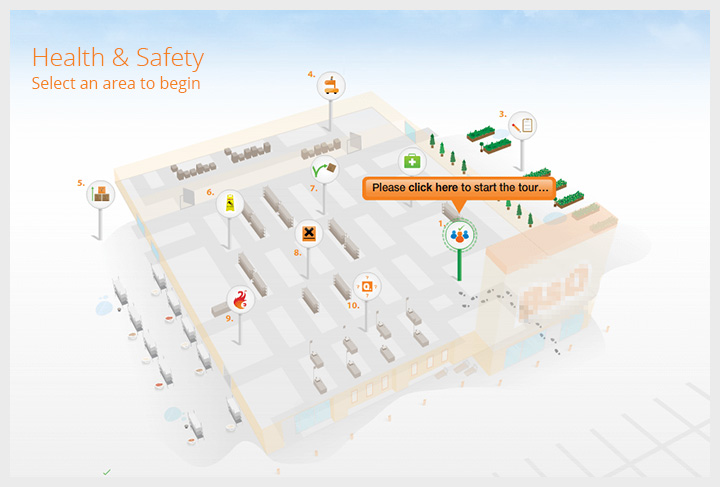 Client: Major UK Retailer
Audience: 26,000 Store staff
Used by all store-based staff once a year as well as being a fundamental part of the new-starter induction programme. The over-riding learning treatment is an 'exploratory feel' but with guided instructions to ensure understanding and health and safety compliance and avoid risk.
The content includes scenarios, animations and video content and is split into 10 key topics and which are completed as a 'journey' through a store, simulating the store tour that forms part of a new starters's induction programme. Learners find out about subjects such as Manual Handling, Slips and Trips, Working at Height, Accident Reporting and Basic Fire Safety.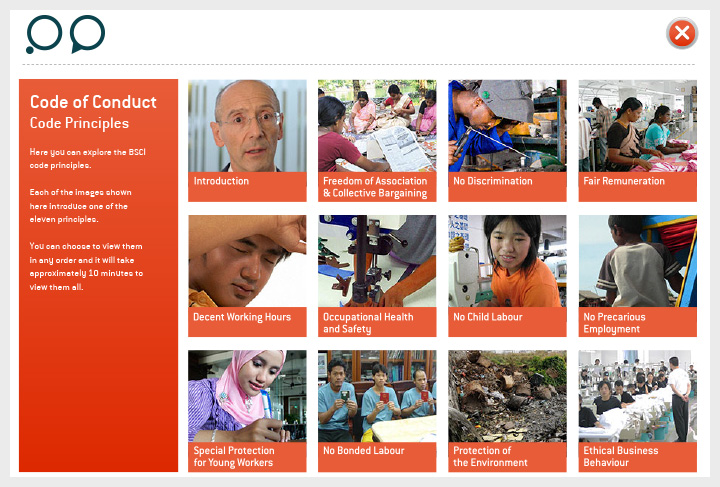 Client: European Membership Organisation
Audience: 1000s
This client is a trade membership organisation that promotes ethical behaviour in the supply chain - most of its members are European retailers and producers that source products an materials from developing countries. We produced a series of online learning Induction modules to introduce members to the Code of Conduct, Code Principles and the Values of the organisation and those expected of its members.
The modules use video, info-graphics, animation and audio to convey the messaging in a media-rich and engaging fashion to the learners.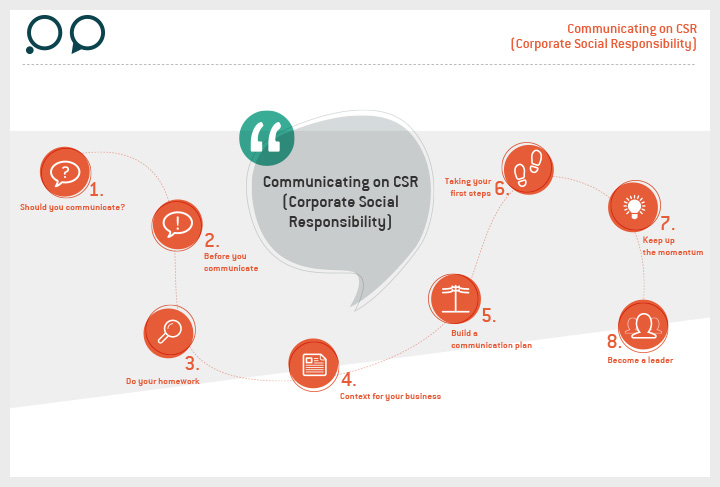 Client: European Trade Organisation
Audience: 1000's
This module was designed to introduce the trade associations members to the concept of implementing a CSR strategy within it supply chain.
The programme starts with a short assessment to measure the learner's current 'CSR maturity'. They then follow a ten step process to implementation and based on the results of their initial assessment they are then guided as to which steps to focus on.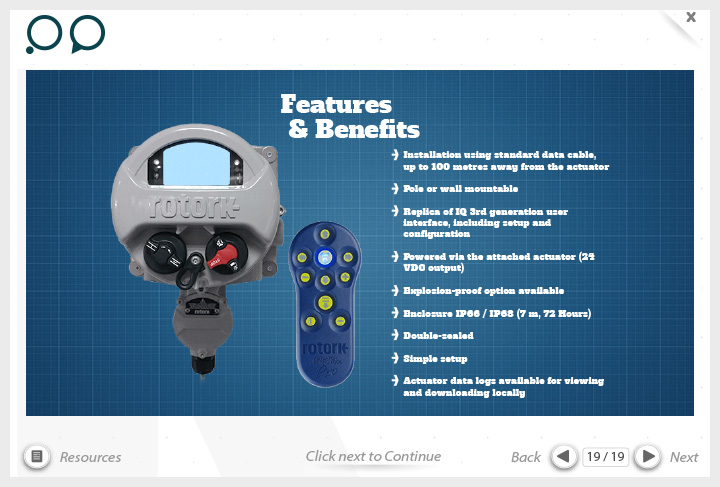 Client: Global Engineering Company
Audience: Global service and customer base
Our relationship with this company goes back over 11 years and over that period we have produced a portfolio of technical training modules to support their internal service engineers and customers around the world.
Most of the modules are set-up and configuration tutorials for their range of industrial equipment. The modules include animated 3d models and software simulations, delivered in concise, intuitive audio-driven modules. Because of the busy nature of their technical training department, they like the fact they can hand us the technical spec sheets, give us the equipment and we go away and work it out!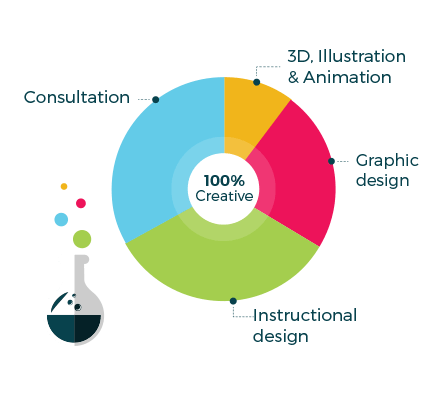 ABOUT US
We are a team of passionate, experienced, hands-on elearning professionals.
Working with us is like having your own team of elearning designers and developers on tap. Our pragmatic approach means that if you need stuff done then you give us a call. We don't have layers of project managers, account managers and support queues, you talk directly to the team and we always go the extra mile to ensure the success of your project.

That's why we have many long-terms clients - some going back 10-12 years - and we enjoy a "Trusted Advisor" relationship based on our proven ability to deliver professional and engaging elearning services and provide reliable, insightful advice.

Watch our presentation!
Call Us: 01737 244328
Email us: hello@knowledgefront.co.uk
Lots of...
Happy Clients!
SOME OF OUR CLIENTS